HEARST'S DOMINANT PRINT & ONLINE REACH
Employ engaging multi-media and digital marketing solutions to reach your ideal decision-makers.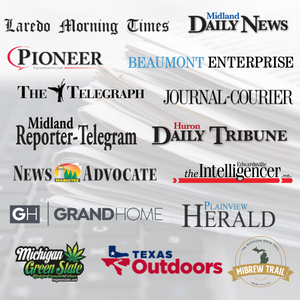 About Hearst Community Media Group
The Hearst Community Media Group is publisher of eleven dominant newspapers in Illinois, Michigan and Texas – covering the communities of Alton, Edwardsville, Jacksonville, Midland, Bad Axe, Big Rapids, Manistee, Laredo, Southeast Texas, Midland and Plainview . Our eight weekly publications provide hyper-local coverage to key towns in our markets. Our premium magazines cover popular, in-demand topics, such as cannabis, outdoors, home & lifestyle, and breweries.
With one of the oldest news gathering media in Illinois, Michigan and Texas – Hearst Community Media Group, and their corresponding news websites', news products have a serious journalistic commitment to provide local, watchdog and investigative reporting that impacts the areas they serve.
In addition to its journalistic commitment, Hearst recognizes its responsibility to help its advertising customers grow their businesses by offering the most cost-effective and targeted opportunities to reach new customers.
About Hearst Corporation
Hearst is one of the nation's largest diversified media, information and services companies with more than 360 businesses. Its major interests include ownership in cable television networks such as A&E, HISTORY, Lifetime and ESPN; global financial services leader Fitch Group; Hearst Health, a group of medical information and services businesses; transportation assets including CAMP Systems International, a major provider of software-as-a-service solutions for managing maintenance of jets; 31 television stations such as WCVB-TV in Boston and KCRA-TV in Sacramento, Calif., which reach a combined 19 percent of U.S. viewers; newspapers such as the Houston Chronicle, San Francisco Chronicle and Albany Times Union, more than 300 magazines around the world including Cosmopolitan, ELLE, Men's Health and Car and Driver; digital services businesses such as iCrossing and KUBRA; and investments in emerging digital entertainment companies such as Complex Networks.