DOMINANT
MEDIA SOURCES
FOR READERS
AND ADVERTISERS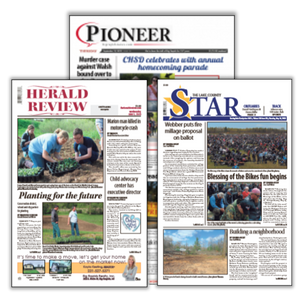 Newspapers
The award-winning Pioneer newspaper offers Big Rapids, greater Mecosta County, Osceola County and parts of Lake and Newaygo Counties authentic community journalism six days per week. The Pioneer and its weekly papers, The Lake County Star and The Herald Review, deliver complete coverage of schools, government, courts, sports, and general interest stories to over 99K residents.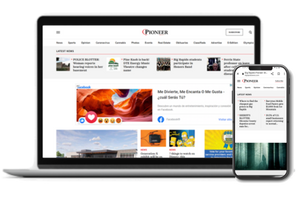 News Websites
Each month, BigRapidsNews.com, LakeCountyStar.com and TheHeraldReview.com see more than 285 thousand highly engaged unique visitors. Last year, consumers engaged with over 21.1 million pages of local media content, making OurMidland.com the number one place to receive breaking news, entertainment, real estate listings and local sports updates from the mid-Michigan area.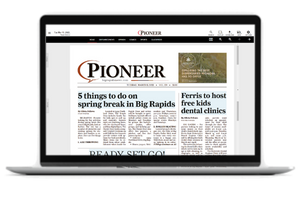 Digital Edition
The Digital Edition (also called the E-Edition) is an exact digital replica of the printed newspaper, including the same news, features, ads and layout. You can read it wherever you have access to the Internet - at the airport, at work or over your morning cup of coffee. Or you can download your digital edition to read later!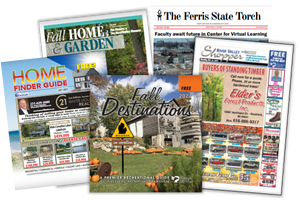 Specialty Publications and Shoppers
The Big Rapids Pioneer focuses its rich editorial content on local news, community interests, and visitor attractions, including the area's many beautiful lakes and Ferris State University. Its nine specialty publications, including Destinations, FSU Torch, Sparta Today, Home & Lifestyles, HomeFinder, and more, reach a diverse audience of over 99K. Published weekly, three shoppers are distributed to over 47K households providing advertisers a valuable opportunity to highlight their services through classified ads, a service directory, merchant product inserts, and effective display advertising.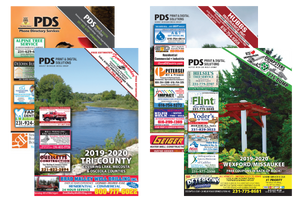 Business Directories
The Pioneer Group publishes four West and Central Michigan business directories covering Kent, Mecosta, Montcalm, Newaygo, Osceola, Lake, Wexford and Missaukee counties. Our goal is to help new and established businesses prosper by offering value-priced advertising that allows them to reach the consumers and businesses in our communities.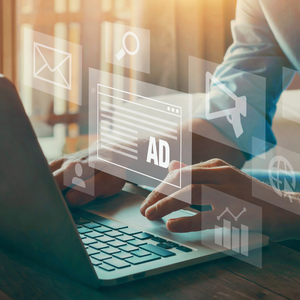 Digital Marketing Services
Through our development of proprietary technology and partnerships with major search engines, social network sites, and other leading tech companies, we offer a full line of digital products that will help you reach and interact with your ideal customers across the home and lifestyle segment. Our marketing experts will help you identify and integrate the best mix of channels and tactics to help you "Get Found."
Commercial Printing
Our commercial and digital print services help you make a positive, lasting impression with your audience. We work with your organization to design a professional, impactful print solution that meets your specific objectives using the latest technology and creative graphic design.
Contact Our Big Rapids, MI Team Today
Our team of marketing experts can help you reach your ideal customer base with integrated marketing strategies custom-designed with your brand and audience in mind. If you are ready to take your marketing to the next level, call (231) 796-4831 or complete the form below to contact us today:
"*" indicates required fields